Both Ruminant Health & Welfare and Defra have issued important Bluetongue updates, urging UK farmers and farm vets to be vigilant and watch for the clinical signs of this emerging disease threat.
RUMINANT HEALTH & WELFARE
Farmers are urged to beware, take action and be vigilant for new strain of Bluetongue virus, following reports of a new strain of bluetongue virus (BTV-3) emerging and spreading rapidly in the Netherlands, with increasing concern about the situation and its proximity to the UK.
Ruminant Health and Welfare (RH&W) has facilitated emergency meetings this week, bringing together over 40 key stakeholders and representatives from across the industry, to ensure the four nations are prepared for this emerging disease threat.
"What we are advising is three-fold. Farmers need to beware when buying animals in, especially from Europe, take action to report any signs of the disease, and at all times, remain vigilant," explains Dr Joseph Henry, president of the Sheep Veterinary Society and member of RH&W's steering group.
BTV-3 is a viral disease transmitted by biting midges, which affects all ruminants (e.g., sheep, cattle, goats and deer) and camelids (e.g., llama and alpaca).
"The existing BTV-8 serotype vaccine will not offer cross-protection against this new BTV-3 strain, making any likely outbreak difficult to control. Hence why it's so important that we follow the advice to take action and prioritise good biosecurity measures while remaining extremely vigilant to the disease at this stage."
Dr Henry adds: "It remains extremely difficult to protect against midges and a vector borne disease. However, there is always a role for good biosecurity and insecticides, but it's important to differentiate between products licensed for use on animals, and those designed for use on building and vehicles."
Updating on the emerging threat, Cat Mclaughlin, NFU chief animal health and welfare advisor, and member of RH&W steering group, says: "As of early October, BTV-3 has been reported on more than 700 farms in the Netherlands.
"Just this week, a new case has been reported in Belgium, meaning BTV-3 is now in two European countries. BTV-3 appears to mimic BTV-8 in its behaviour, leading us to be extremely cautious to the risk it poses.
"Currently, there are no reports of the new strain in the UK. But it is felt that due to the nature of bluetongue's ability to spread via infected midges, and current warm weather conditions, the risk of it reaching the UK is increasing, so we must adhere to advice and do all we can to keep it out," she says.
Phil Stocker, NSA chief executive and member of RH&W steering group, adds that bluetongue does not pose a threat to human health, but it remains a notifiable disease.
"We'd strongly advise farmers to beware when buying livestock from Europe, and to request pre-movement testing of animals prior to departure," he says.
"All imports of live animals are subject to post-import testing with restricted movements until a negative post-import test result has been confirmed, so caution is key."
Symptoms of BTV-3 can vary across ruminants, with sheep generally exhibiting more overt symptoms than cattle, but both can showcase clinical signs.
These include in sheep; drooling, mouth lesions, high fever, lameness, and oedema (swollen heads) and sudden death. Cattle are not usually as severely affected but may show similar clinical signs as well as teat, eye, coronary band and nose lesions.
RH&W's advice to farmers and their vets remains three-fold, farmers need to beware when buying animals in, take action to report any signs, and always, remain vigilant:
Buyer beware, only source animals from Europe responsibly.
Take action, prioritise biosecurity and report any suspicious clinical signs.
Vigilance is key, monitor livestock closely.
In the UK, bluetongue, including BTV-3, is a notifiable disease, so anyone suspecting the disease must take action and report it to the Animal and Plant Health Agency (APHA).
Further information and resources can be found here: https://ruminanthw.org.uk/bluetongue-virus/
DEFRA
Defra has issued the following update regarding developments within Europe in relation to bluetongue virus (BTV) and epizootic haemorrhagic disease virus (EHDV). Both viruses are circulating in European countries, including some of those closest to the UK and viruses are spread by midges. They are also causing clinical disease in sheep and cattle.
If midges feed from an infected animal, the virus can reproduce within the midge which can then spread EHD or BTV to other animals for the rest of its life, making the disease difficult to control once it is circulating.
Epizootic haemorrhagic disease (EHD) was confirmed for the first time in Europe in October 2022 in Italy. It has since spread to Portugal, Spain and the south of France. EHD affects deer most severely, but clinical cases have been reported in cattle at multiple farms in these countries.
BTV has been circulating in European countries for some time. However, on 5 September 2023 the Netherlands reported their first outbreak of Bluetongue (BT) since 2009. There are now nearly 800 confirmed outbreaks, and more are expected as we are still in the vector season. This has as you will be aware, been confirmed to be BTV-3. Additionally, on 21 September 2023 French authorities confirmed the presence of new strain of BTV-8 which is causing more severe clinical signs in cattle and sheep.
Now that the disease is confirmed to be circulating in more neighbouring countries, infected midges could be blown across the channel to the UK and pose a risk to livestock and deer. The south and east coast of England are at greatest risk.
Vaccination remains the most effective way to protect your herd or flock against BTV serotypes 1,2,4 and 8. Keepers should consider vaccinating their susceptible animals against BTV-8 in particular as this strain is circulating widely in France. There is also a new more virulent mutation circulating which is causing more severe disease in cattle and sheep.
While vaccines exist for some BTV strains, there are currently no commercially available vaccines for BTV-3 or EHD. We therefore urge keepers to remain vigilant to the signs and symptoms of these diseases and report suspicion of disease at the earliest opportunity to enable a swift response and greatest chance of limiting the impacts. You should also take particular care when importing live animals and germinal products and make sure that you know where the animals or donors originated from and that they meet all the export healthy certificate requirements. You should also consider requesting a pre-export test.
Table 1: clinical signs.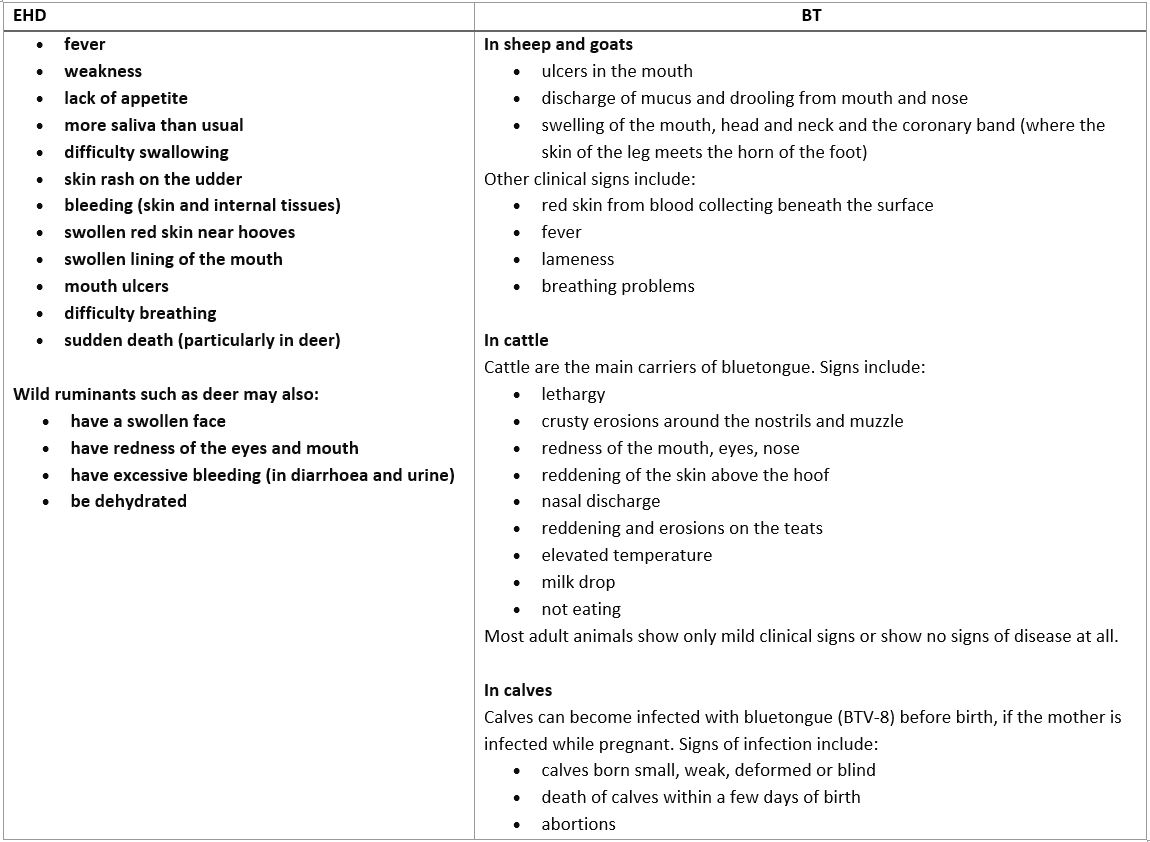 Trade:
Imports of live ruminants from France can no longer be certified for export to Great Britain following the outbreak of EHD that was confirmed on the 21 September 2023.
Ruminant germinal products imported from the France to Great Britain are subject to additional testing requirements for EHDV as set out in the relevant import health certificates.
Imports of live ruminants from the Netherlands must now comply with supplementary guarantee 'A' which relates to certain vaccination requirements for BTV. This is due to an outbreak of BTV that was confirmed on 5 September 2023. As the BTV strain in the Netherlands has been confirmed to be BTV-3 for which there is no vaccine, the Netherlands can no longer export live ruminants or germplasm to GB either.
What can keepers do?
Source animals responsibly if importing from European countries.
Source germplasm responsibly and be aware of the disease status of exporting countries and collection centres.
Be aware of the current disease situation in exporting countries.
Request a pre-export PCR test for EHDV and BTV before animals are exported.
Ensure any animals you are importing have the correct paperwork and are compliant with the conditions in the export health certificate.
Keep any susceptible animals you have imported separate from other animals on your flock while they are under restriction.
Be extra vigilant for any signs of clinical disease that could be associated with BTV or EHD.
Report any suspicion of EHD or BTV immediately.
Post import movement restrictions will apply to cattle or sheep imported from countries where BTV is known to be circulating. These restrictions will apply until the animals have been tested and confirmed free of the disease.
Imported animals that test positive for bluetongue will either be culled or returned to the country of origin. Any animals which travelled in the same vehicle and are at risk of becoming infected may also be culled. No compensation will be paid for the culled animals or for the cost of returning any non-compliant animals.
All other susceptible animals on the destination premises that are at risk of becoming infected will be placed under movement restrictions. These restrictions will apply until it's confirmed that the disease has not spread. These restrictions may last several weeks.
Please see below links for further information: